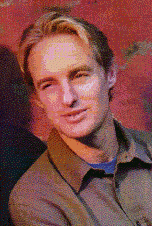 Owen Cunningham Wilson was born on November 18, 1968 in Dallas, Texas, to a photographer mother and advertising executive father. With his two brothers, Luke and Andrew, he enjoyed a typical American boyhood. He attended St. Marks School of Texas until the tenth grade when he was kicked out for being a troublemaker. He finished off the year at Thomas Jefferson High School in Austin, then went on to attend a New Mexico military academy. After he graduated from there, he attended college at the University of Texas at Austin and graduated in 1991 with a major in English.

In college, Owen signed up for a playwriting class, where he met Wes Anderson. "I didn't know what I was going to do, maybe advertising?" he told Icon Magazine in 1998. "I guess movies seemed impossible. It seemed so far away and difficult to break into." During the course, they sat together in the corner but didn't converse much. Then Anderson had a play produced and asked his classmate to be in it. The young Texans hit it off, liked the same moviemakers - namely Terrence Malick, the Coen brothers, John Huston and Roman Polanski - and wrote stories and a play.

The two wrote a short film, Bottle Rocket, basing it in part on their experiences as college roommates. Anderson was working as a movie-house projectionist, while Wilson toiled in a burger joint. Their script about guys with lots of energy and the urge to do something emerged from their own unfocused lifestyle. At first, Anderson and the Wilsons tried to shoot a full-length feature but ran out of cash. They ended up making a 16mm black-and-white short instead. Thanks to family friend and screenwriter L.M. Kit Carson, the amusing, 13-minute demo landed at the 1993 Sundance Film Festival and in the hands of Polly Platt, a producer who worked for Gracie Films, the production company headed by James L. Brooks. Platt showed it to Brooks and he was very impressed with the 13-minute tape. Intrigued, the producers flew to Dallas and visited the boys in their one-bedroom apartment. After meeting with Wilson and Anderson ("He came by our apartment, and I think he was shocked by our living conditions," Wilson told the New York Times in 1996. "I think that actually helped us."), Brooks agreed to produce the film and Bottle Rocket, the story of some middle-class guys who try to pull off a major heist, became a full-length feature. Although the movie failed to make a profit, it enjoyed a cult following, particularly due to the Wilson brothers' onscreen charm. Owen began to appear in small roles in films, first The Cable Guy, as a date-from-hell, and Anaconda, where he played Gary Dixon, a documentary sound man devoured by the titular monster. Two more supporting roles followed, as a member of Bruce Willis' crew in Armageddon and as Ben Stiller's drug-addled friend in Permanent Midnight.

Wilson and Anderson collaborated again in 1998 with Rushmore, the critically acclaimed comedy about a teenage boy whose grades are terrible even though his school spirit is high. This time round, mainstream America caught on to the delightful hi jinks of this merry band of funnymen. The film even garnered some Oscar talk for co-star Bill Murray. Wilson's profile behind the camera got a boost as well, as a member of a ghost chasing group in The Haunting. He gave a breakthrough performance as a mild-mannered and amiable serial killer in Hampton Fancher's The Minus Man. In this summer's Shanghai Noon, Owen Wilson plays Roy O'Bannon, Jackie Chan's sidekick.

Meanwhile, Wilson and Anderson are at work on another script about a family of geniuses and the Wilson brothers still live together in Los Angeles. And despite all of his success, Owen Wilson remains humble. "Sometimes I stop and think how strange this all is," he explains to Texas Monthly. "Something that began as a little idea in Austin, that Wes and I just walked around talking about ourselves, has turned into all this."


---
Facts:
Birth Name: Owen Cunningham Wilson
Birthplace: Dallas, TX
Birthdate: November 18, 1968
Age: 31 years old
Education: Thomas Jefferson High School, Austin, Texas
Graduated from a military high school in New Mexico
University of Texas at Austin (BA in English, 1991)
Debut: (Film) Bottle Rocket, 1996
Occupation: Actor, Writer, Producer
Significant Other(s): Sheryl Crow, musician, singer, actress; met during filming of The Minus Man
Family: Father: Robert Wilson, advertising executive; operated public TV station
Mother: Laura Wilson, photographer
Brother: Andrew Wilson, actor; appeared in Bottle Rocket
Brother: Luke Wilson, actor; costarred in Bottle Rocket, Home Fries and Rushmore